How to Change Your Kindle Fire Name

FTC Disclosure: If you make a purchase via a link on this site, I may receive a small commission. There will be no added cost to you. Thank you!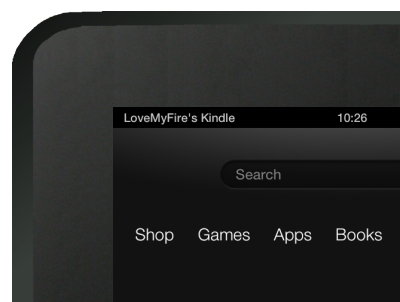 See the name at the top left of my tablet that says "LoveMyFire's Kindle"? How did I change my Kindle Fire name?
Thankfully, it's easy to do and I'm going to show you how in this Kindle Fire tip!



Update: This tutorial works for all Kindle Fire tablets. However, some of the newer tablets now have an option in their settings (right on the device itself) where you can change the name of your tablet.


Changing Your Kindle Fire's Name

Alright, let's get to it!
But first, one more note: you can do this directly from your Kindle Fire or from any computer browser that can access your Amazon account. For this tutorial I will be doing it from my computer, but the images will be almost the same when done on your tablet (tablet instructions will be in parenthesis like this).
Okay, now we're ready. Go to Amazon.com and hover over (or tap) "Your Account" located at the top right of the screen:


You'll see a list of options pop up. Select "Manage Your Kindle":

If you're not already signed in you will need to enter the username and password for the account where the Kindle Fire you want to change is registered.

On the page that opens, select "Manage Your Devices" in the left hand column: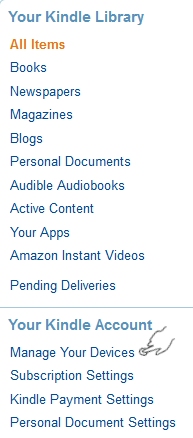 On the page that opens select the Kindle Fire name you want to change:



Yes, I now have SIX Kindle Fires! Crazy, huh? It's one of the perks of creating a website all about Amazon's Kindle Fire. I get to justify the purchase of each new tablet that comes out! I'm so kind that I even let my daughter and husband use them too. ;)


When you select a device it will show you its name, type, and a few other options such as the email address for that Kindle Fire (yes, each tablet has its very own email address, see my FAQ on transferring files for more details), its serial number, and if it's subscribed to Special Offers (first generation doesn't have this feature).

Here's a picture of this for my Kindle Fire HD 7":


Although I haven't yet received my Kindle Fire HDX tablets, they are showing up on this page so I'm going to go ahead and change the name of the Kindle Fire HDX from "Rachel's 6th Kindle" to something new.
Select the "Edit" link to the right of the tablet's name:



A pop up box will open up and "You can change your Kindle's friendly name", how sweet! When you're done save your new name: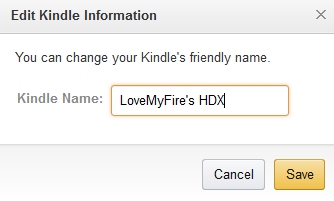 Okay, so that may not be a super creative name, but it works for me.
When you're done you should see the following pop-up box letting you know the Kindle Fire name change was successful:



If you don't see the box you may need to sign in again- I did because I took too long while putting together this tutorial. :)

The page will then refresh but it might take a few seconds for the new name change to be reflected. If it doesn't show up just refresh your page.
You'll need to connect your Kindle Fire to Wi-Fi for the change to appear. If you don't see it right away you can sync your device. Slide down the top menu, tap "sync", and wait a few minutes. Your new Kindle Fire name should now appear!
And that's all there is to it. Easy-peasy, right?



There's also an option to deregister your Kindle Fire from the account. DO NOT select this if you do not want to remove the tablet from your account. If you do, all content, data, settings, etc. will be wiped clean and you'll have to reregister and start over from the beginning!


What name did you change your Kindle Fire to? Do you have a fun or creative name for your baby? Share it with us in the comments below! One site visitor shared on my Facebook page that her Kindle Fire is named "Kindie", isn't that cute?


Now that you've change the name of your Kindle Fire let's try out another tutorial!




Hand Illustrations provided by GestureWorks® (www.gestureworks.com). Aren't they perfect?