Favorite Kindle Fire Game: Card Crawl
FTC Disclosure: If you make a purchase via a link on this site, I may receive a small commission. There will be no added cost to you. Thank you!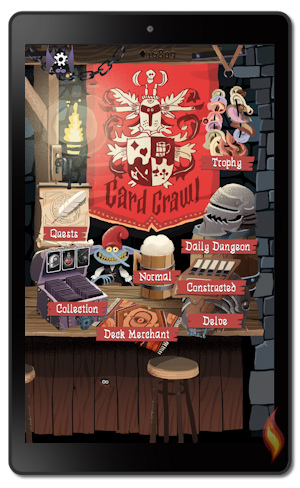 I'm thrilled to share with you my current favorite Kindle Fire game called Card Crawl!
2018 Update: Unfortunately, this app is no longer available in the Amazon App Store. :(
However, you can find Card Crawl in the Google Playstore.

----

If you haven't yet played this game then you're missing out. It is simple to play and win, but the difficulty level continues to increase, especially in certain game modes.
Even if you don't usually like "gamer" type games, this game is worth trying out! My mom and almost-five-year-old both love Card Crawl.
Let me show you why!



Don't be dissuaded by the negative reviews. Most of those are due to a minor loading issue that I'll explain below. It's easy to bypass, and the developer is aware and working on it.


FREE! FREE! FREE!
One of the benefits of this game is that it's FREE to play (F2P) because it's one of Amazon's "Underground" games.
This means you can play it as much as you want and not have to pay one penny to do so.
However, I enjoy Card Crawl so much I would willingly pay a one-time-fee to purchase this game if it did have a cost.


Prices are subject to change at any time and without notice. Products listed as free may no longer be free. Please confirm all prices before purchasing products. LoveMyFire.com is not responsible for any price changes or purchases you make. Please see the Terms of Use.

Opening Load Issue

As I mentioned in the little note above, Card Crawl currently has an issue when you first load the game on your Kindle Fire. This is connected to the game being an Underground game.

What happens (on all versions/models of the Kindle Fire that I've tested this with) is that the game first loads Amazon's splash screen which is an ad.
After you hit the "close" button at the top right, or the back arrow to exit the ad, the app tries to load its intro scene. However, due to Amazon adding the extra ad, the app's opening memory section becomes overloaded and you get crazy white lines followed by a solid pink screen. (Shown below.)

Amazon's Underground Ad: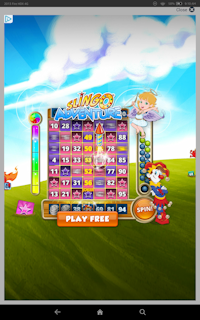 Black and White Stripes: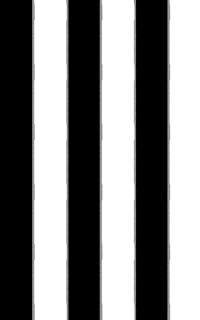 Pink Screen:



All you have to do is exit the app (swipe up and tap the back arrow). Then reopen the game. This time Amazon's Underground ad won't load, which won't overload the opening scene and it will load properly.
Yes, it's a bit annoying, but the developer is aware of it, is working on a solution, and will let me know when he finds one. Also, this Kindle Fire game is worth this little extra effort to play it. :)


How To Play Card Crawl

Card Crawl has a great tutorial that starts when you first begin playing (tap the "Normal" option on the home screen), so I'm not going to go over that here. However, here's an overview of the game to give you a little taste before you try it yourself.
You're an adventurer who has to survive (aka not die) the dungeon by making it through all 54 cards. Four random cards are dealt (figuratively you enter a room in the dungeon) by a creature called Hoerni- who will be very pleased if you die.
The cards will either be a shield, sword, monster, potion, coin, or spell card. Most cards have a value (ranging from 1-10) and you play these cards to either your left or right hand, your pack, or directly to yourself.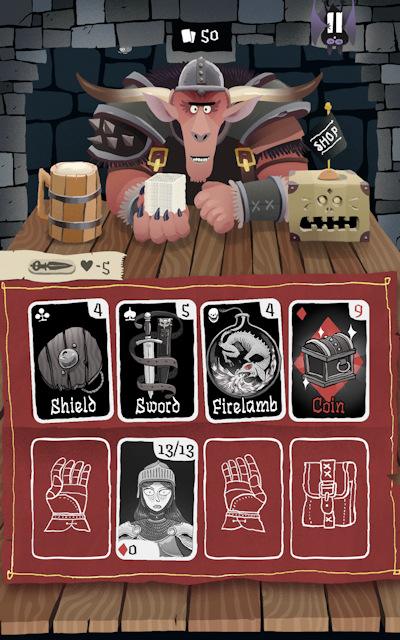 You start with 13 hit points (life/health) and the strategy is to play the cards in a way that you stay alive (survive the dungeon) while accumulating treasure (the coin cards). There's also a shop where you can sell item cards but you have to be careful as you might find yourself at the end of the game in need of a card you already sold.
If you survive the dungeon you get to keep your loot (in the form of gold) and may even earn some bonus gold.
Game play is quick and only takes a few minutes!

Win games, complete quests, earn achievements, and use your winning gold to unlock other features such as more spell cards, other modes of play, extra avatars, and even build your own deck from scratch.


Player Avatars

To start, your player avatar (image of the player you are portraying) is of a female knight. Personally, I think this rocks!! As a female myself I'm always drawn to female characters in the games I play.
You can change your avatar in the Quests menu but the only options at the beginning of the game are between the female or Android knights.

Female Knight: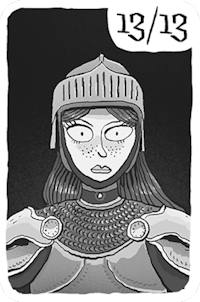 Android Knight: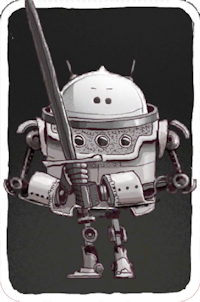 By completing quests you can unlock a few other avatars, but I won't spoil it by telling you what they are. You'll have to discover them on your own. :)  (Psst, my favorite avatar is the one to the right of the knights.)
One of the really fun features of the avatar is that as your character takes damage your avatar becomes more haggard and... er... skeletal! LOL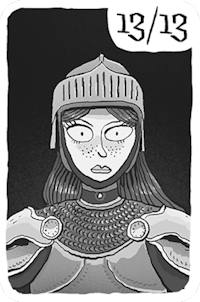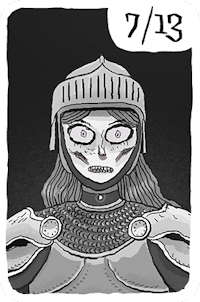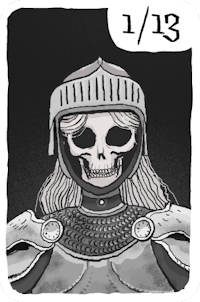 Luck vs Skill

Card Crawl is a great game because it has a nice balance of luck vs skill! This is very important to me when playing games of any kind, including sports.
When you play a game that is challenging yet you have a chance to win, it's super fun! But if you know you're going to die no matter what you do, that game's going to lose its appeal. Of course, if a game is too easy it eventually loses its charm as well.


Other Dungeon Modes to Play

Card Crawl does a great job of providing some nice variety through new spell cards and the other types of game play, however you'll need to unlock these modes through completing a certain number of games and/or requirements.
Here's a brief overview of each mode.

Delve mode is where you advance to a more difficult level every time you win. If you lose you go down a level and have to beat it again in order to re-advance. This can be VERY frustrating yet quite challenging! My personal goal is to reach level 15 and I'm still working at it. :)
Also, there's a minimum amount of gold you must acquire during the Delve game to complete a dungeon level and move on (if you don't die of course).

Constructed mode lets you select which five spell cards will be in the deck you play- making for a very fun way to test specific spell card combinations.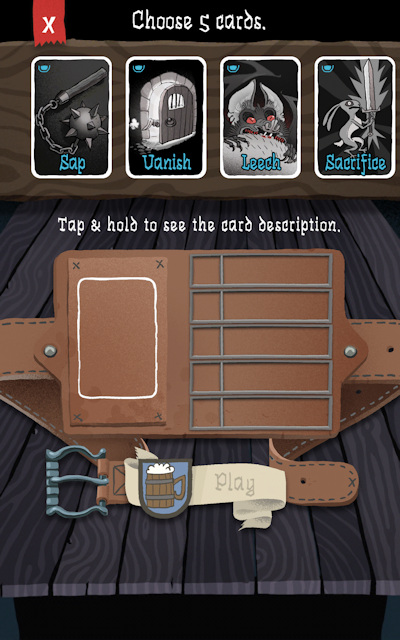 Deck Merchant lets you build a completely unique deck of cards to try endless combinations of cards! It's the most versatile mode, but takes a bit of time to set up. You can also play OTHER people's custom decks which is a whole other kind of mode in-and-of itself.

The Daily Dungeon is a personal favorite of mine as you get to play a new unique dungeon (set of cards) once each day. At the end of the dungeon, if you've survived, your total gold is ranked verses others who've played that day.

Scores and rankings for each mode can be seen in the Trophy room, which is full of severed heads in jars... ew! Currently the labeling system is a bit confusing, but if you check the Statistics page under the Settings option (hanging bat icon), you can figure out what each label means.

For previous Daily Dungeon scores see Card Crawl's Daily page. It only shows the current and past two days, but at least if you miss the day's finally results you can see them there.

One time I even made it to third place in the Daily Dungeon!!! Although I eventually dropped to 5th place by the end of the day I was thrilled to actually hit a top 3 spot for once!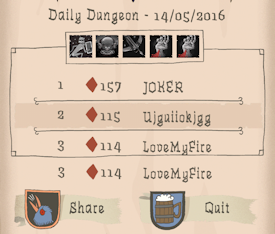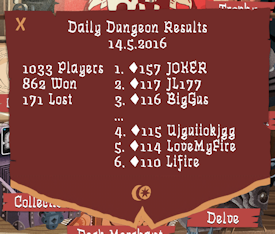 You can even share your winning total on social media (but not your rank, unless you take your own screenshot). See my Twitter post or #cardcrawl for an example. Here's the image it posts: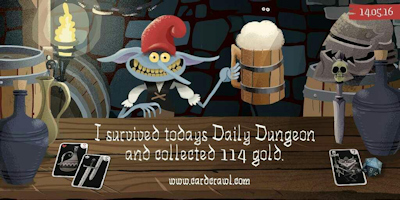 Art and Animation

The overall look and feel of Card Crawl is very pleasing! The music, sound effects, art, and animation are all very well done and enjoyable.
Even the transitions between screens are fun with a little rotating mug and clever sayings such as:
"Cleaning the table..."
"Sharpening the knife..."
"Counting gold..."
etc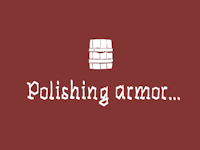 Of course, you can turn off the music and/or sound in the settings, but you can even turn off the animation as explained next.


Energy Saving Mode

Card Crawl has a cool feature where you can turn on an Energy Saving option in the Settings (hanging bat icon). This stops a few of the animations from the game, thus saving you some battery power.
The main change is that Hoerni is now a cardboard character and doesn't move when dealing the cards and doesn't react when you win or lose. I like to think of it as if he's taking a break and will be back soon.

Card Crawl Settings: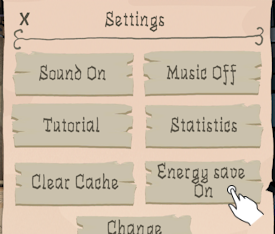 Energy Save On: (Cardboard Opponent)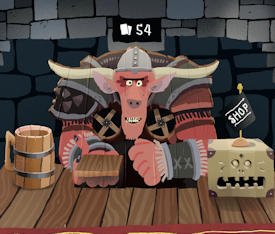 Clearly I'm raving about Card Crawl as it truly is a fabulous game to play and is my current favorite. Take a chance and try it out!


Other Favorites

Before you go, here are two more great Kindle Fire games I love playing!


How about you? What are some of your favorite games to play? Share with me in the comments below!
I ♥ My Fire!
-Christine