Astronomy Apps For Kindle Fire 
by Olga

FTC Disclosure: If you make a purchase via a link on this site, I may receive a small commission. There will be no added cost to you. Thank you!

The list of the best astronomy apps for Kindle Fire together with direct download links to Amazon and Google Play.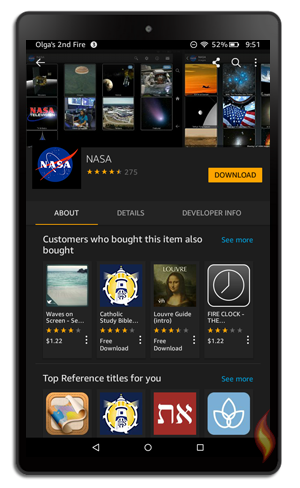 Do you like astronomy? Are you interested in learning more about our solar system and its planets? Great! You are in the right place. With your Kindle Fire tablet and a couple of good apps, you can grow your interests and learn so many things.
All you need to do is check this list of the best eight Kindle Fire astronomy apps. Below each app you will find basic information about it, some screenshots and a direct download link.
Let's begin our exploration!



Kindle Fire Astronomy Apps
Most of the astronomy apps listed below can be found for free in the Amazon Appstore, however there are a few you will find in the Google Play Store.
For those apps in Google Play, you'll need to follow the instructions in one of my articles on side-loading apps from Google play:

Prices are subject to change at any time and without notice. Products listed as free may no longer be free. Please confirm all prices before purchasing products. LoveMyFire.com is not responsible for any price changes or purchases you make. Please see the Terms of Use.

Star Chart
Star Chart takes the first place on my list of the best Kindle Fire astronomy apps for a reason. This app is basically a virtual planetarium in your hand and on your Kindle Fire device.
The app isn't as popular on Amazon Appstore as it is on Google Play where it has more than 100 thousand reviews averaging 4.3 stars out of 5.
The main features of Star Chart include:
All you need to do is point at the sky to see what's there (what stars, what planets and so on).
The app depicts over 120,000 stars (all visible stars in the northern and southern hemisphere).
It also displays 88 constellations and all the planets (and their moons) of our solar system.
It has the special time shift feature that lets you go back 10,000 years in time.
It supports voice commands for exploring our solar system (e.g. "fly to the Moon").
It has an AR (augmented reality) mode but your device must support it if you want to use it.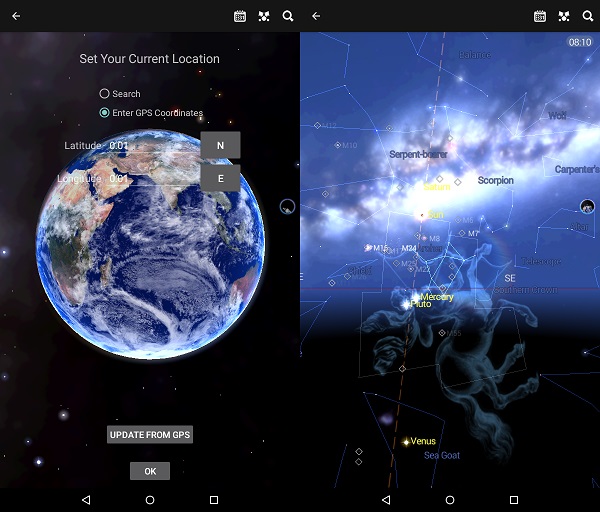 Download Star Chart from Amazon!


NASA App
A few years ago I wouldn't have believed it exists but, yes, the NASA app does exist and has actually been developed by NASA to help you learn more about it and stay up-to-date with its missions and objectives.
This fact together with other features of this app make it a must-have astronomy app for your Kindle Fire.
Some of the main features of the NASA App include:
You get access to the latest videos, photos and interesting stories about NASA.
You can rate photos & videos or sort them according to their rating to view only the best ones.
You can learn about the current missions of NASA.
There is also the possibility of live streaming from HDEV and NASA TV.
You can get information about ISS and other NASA satellites in real-time.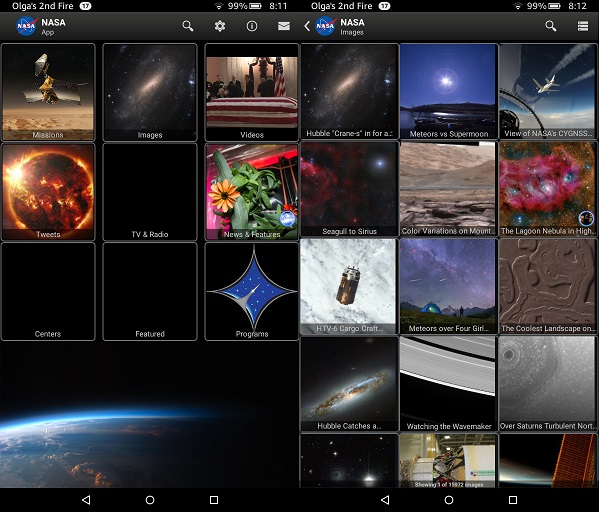 Download NASA App from Amazon! 


Moon Phase Pro
Moon Phase Pro is also one of the best astronomy apps for Kindle Fire. Your device simply cannot do without it. It has a very high average rating of 4.4 stars out of 5 and more than seven hundred reviews. As you probably guessed, the app's focus in only on exploring the Moon.

The main features of the app include:
The app has practically everything you need to know about the Moon and its current state.
It offers outstanding interactive 3D simulation (you can see craters).
You can view the current phase and crescent angle of the Moon but also check moon phrases for the entire month.
You can quickly change the date, time and location of the observer.
A lot of additional information and facts are available.
You can easily share the images or data with your friends.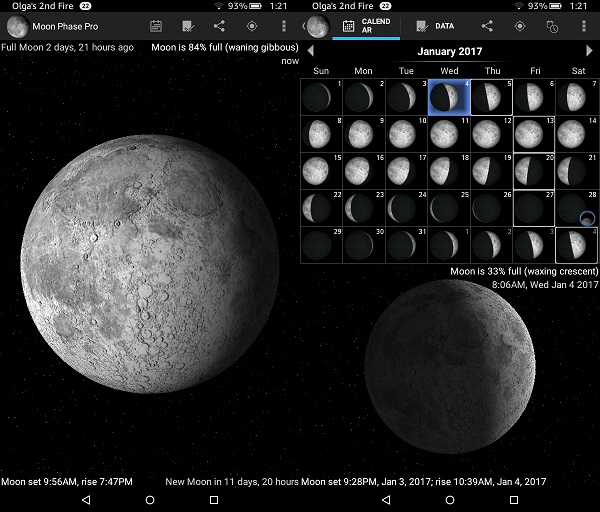 Download Moon Phase Pro from Amazon!


SkEye
SkEye is a little bit more advanced astronomy app for your Kindle Fire and it's supposed to help you view the sky with your telescope. This app can act as a PUSHTO guide for your telescope (it will use your phone's sensors to guide your telescope).

The main features of the SkEye app include:
Real-time alt-azimuth, Messier objects and equatorial coordinates.
You will learn the most important star names and constellation lines.
All you need to do to make this app work is place your device into the optical tubes of your telescope.
It also offers bullseye reticle.
The app is very easy to use.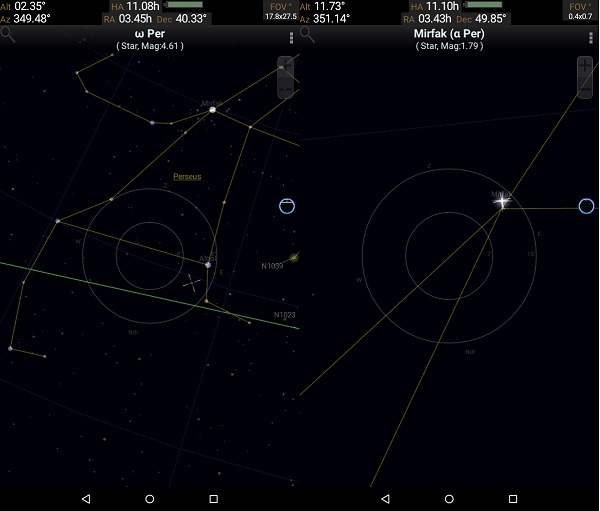 Download SkEye from Amazon!


ISS Detector
Update: Unfortunately, this app is no longer available in the Amazon App Store.

If you are into astronomy at least a little bit, you must install and have ISS Detector on your Kindle Fire.
Did you know that you can actually see the International Space Station in the sky? This app will help you detect and observe ISS.

The main features of the app include:
When and where you can observe ISS and Iridium flares.
A detailed overview of the coming passes together with weather conditions.
Possibility of setting notifications and alarms.
Automatic detection of location and timezone.
Possibility of sharing what you have just seen with your friends.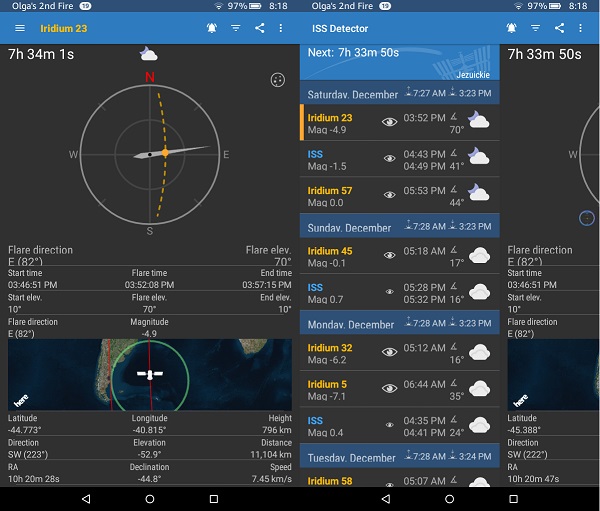 Sky Map
This app unfortunately isn't available in the Amazon Appstore but you can easily get it from Google Play. This is one of the best astronomy apps for Kindle Fire and Android of all time.
In Google Play its average rating is as high as 4.5 stars out of 5 and it has more than half a million reviews.
This app used to be the Google Sky Map but it has been open sourced and donated.

The main features of the app:
A handheld planetarium for your Kindle Fire.
Identify and learn about planets, stars, nebulae and more.
The app is very easy to use and contains tons of valuable information.
Download Sky Map from Google Play! (See instructions above for side-loading apps from Google to your Kindle Fire.)


Solar System Explorer 3D
The list of astronomy apps for Kindle Fire wouldn't be complete without Solar System Explorer 3D.
As the name suggests, the app lets you view the solar system in 3D and learn about each object you see.
The main features of the app include:

You will be viewing our solar system in beautiful 3D and HD graphics.
The app has very nice music effects that give a real feel to your exploration.
You can get detailed information about each planet you visit.
Thanks to the free-flight option you can fly the spaceship and navigate through the system.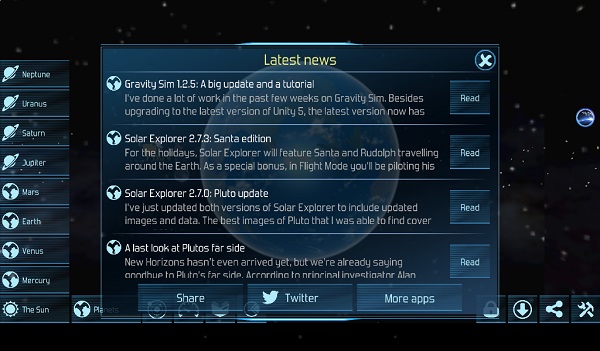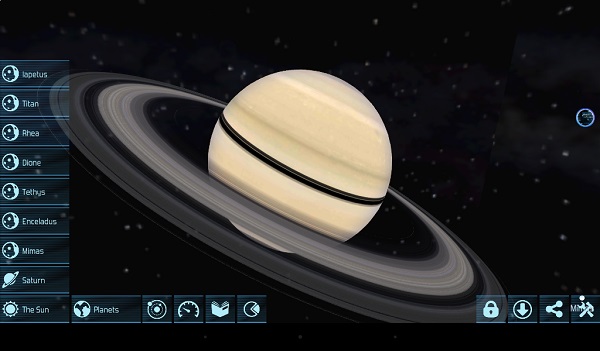 Download Solar System Explorer 3D from Amazon!


Stellarium Mobile
Stellarium Mobile is a paid app but it's certainly worth its price. This is another app that can act as a planetarium for your phone by showing you a realistic map in 3D.
The main features of the app include:
It's fully integrated with your built-in GPS.
It has over 600,000 stars in its repository.
You can view and learn about many nebulae and galaxies (together with their pictures).
The app also has a night mode.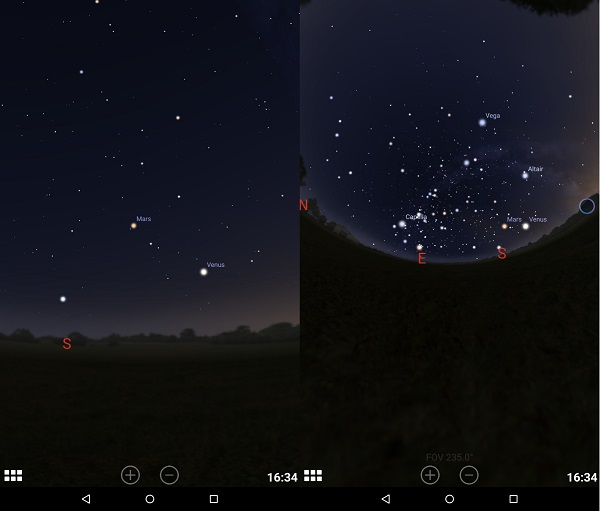 Download Stellarium Mobile from Amazon! 


Do you like this list of astronomy apps for Kindle Fire? Did you find what you were looking for? Do you think that some app should be added to this list?
You can leave a comment in the comment box below. I would love to hear from you. Don't forget to share this list with your friends.
Check out other great Kindle Fire apps too.
I ♥ My Fire!
-Olga
This article was written by Olga, Love My Fire Co-Author! Learn more about Olga and find links to all of her articles.