Exclusive:

Best Kindle Fire Apps -

UPDATED!




FTC Disclosure: If you make a purchase via a link on this site, I may receive a small commission. There will be no added cost to you. Thank you!


This list of the best Kindle Fire apps are those android applications that improve the basic use of your device. The apps in this list are ones that I personally use and find extremely helpful; they are definitely worth paying for- although most are free!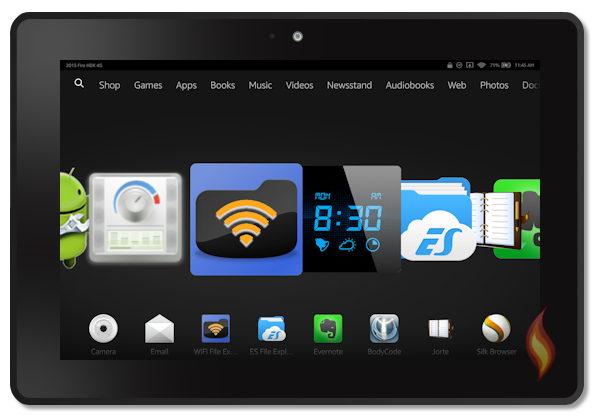 Exclusive for Newsletter Subscribers

This list is an exclusive article for subscribers to my Kindle Fire Alerts- thanks for subscribing! If you haven't yet, be sure to sign up so you'll be notified of the latest-greatest-bestest Kindle Fire stuff ever!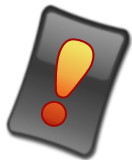 With so many versions of the Kindle Fire it's almost impossible to guarantee that each of the apps in this list will work properly with your model. However, I've done my best to make sure each app is compatible with each year's model, unless noted otherwise, but I have not personally tested each app on each model.
Also, everyone's needs and preferences are different so be sure to test the apps you're interested in to see how they work for you.

Prices are subject to change at any time and without notice. Products listed as free may no longer be free. Please confirm all prices before purchasing products. LoveMyFire.com is not responsible for any price changes or purchases you make. Please see the Terms of Use.

Best Kindle Fire Apps

1. Alarm Clock App: Alarm Clock for Me

Versions:

Most Kindle Fire tablets come with a basic clock and timer, but as an alarm/night clock the pre-installed clock lacks some handy features and settings.
Although the name of this app is unoriginal, Alarm Clock is a great little app. I love how the numbers of the clock are large and a soothing blue. You can dim the light with a simple swipe down, or brighten it back up with a swipe up.
Due to battery drain I wouldn't use this as my daily night lock, but for naps or while on the road it's a wonderful app.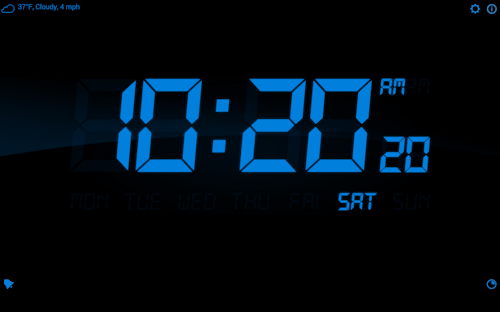 Be sure to plug your tablet into an outlet if you'll be using this app for an extended period of time. You wouldn't want the battery to be drained before your alarm could wake you up! I'd highly recommend testing this app at home before relying on it while on the road. This way you can see how much of your battery it uses up in a specific amount of time.


2. App Killer: Background Apps and Process List

Versions:

This handy-dandy app is great for a quick-kill of all running apps to instantly free up a big chunk of memory.
Although certain apps automatically reopen themselves and can't be permanently closed with this app, many can. It's a great way to see what apps are continually using up your space and battery.


3. Calendar App: Jorte Calendar

Versions:


Hands-down, the calendar app is the #1 app I use on my Kindle Fire. However, there's almost an endless supply of calendar apps to choose from, so how do you choose? Well, it comes down to you and your family's needs. For my family and I, we prefer a wonderful little app called Jorte Calendar.
This app is customizable enough for what I need, and it's online sync system is perfect for us. You can use this app with a Google Calendar, although I don't personally use Google for its calendaring system.
I love being able to use this app on all of my tablets and phone to quickly see what's on my calendar from any of my devices. You can also login from a computer although I rarely use this feature as it's much faster to pull it up on my Fire.

The biggest advantage for us is that my family members and I each have our own calendars that we can quickly reference with the touch of a button. Do you see the "Curtis" button at the bottom right? That switches to my son's calendar and I just tap it again to flip back to mine.
To have these abilities I've mentioned, you'll need to setup an account with Jorte and use the sync, share, and calendar set features to do this, but it's worth the effort! Jorte offers some instructions to help with this setup too.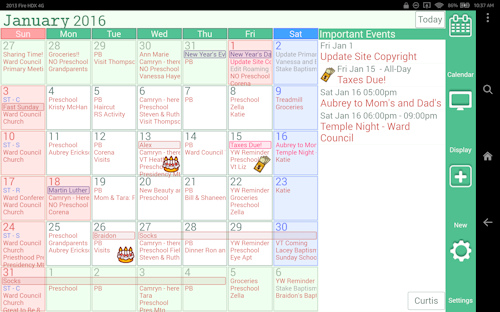 4. File App: ES File Explorer

Versions:
One of the biggest and most annoying aspects of the Kindle Fire is being unable to access its file system.
Fortunately, this app is the solution! To get the most mileage out of your tablet you're really going to need a way to access your files and folders (like you can with "Windows Explorer" in Windows).
This is especially important for being able to side-load other apps (this tutorial shows you more about this cool app).
Es File Explorer has a lot of great features you can play with too. Although there are a few other file apps out there, this is the one I use, but you might want to try out the others as well.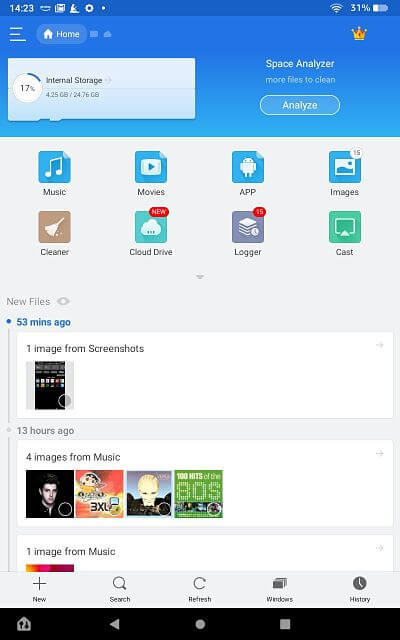 5. File Transfer App: Send Anywhere

Versions:
Being able to transfer files and documents to our electronic devices is a basic ability that most users need. Also, sometimes you may not have a USB cord to connect your Fire directly to another device.
This sweet app is perfect for transferring files between your Fire tablet and virtually any other device - it works with Android, iOS, Windows, macOS, Linux and in web applications.
You have a few options for sending files - you can either use a 6 digit key in real time, share a link or send files to a specific device that you share with often (in which case you won't need the key OR the link).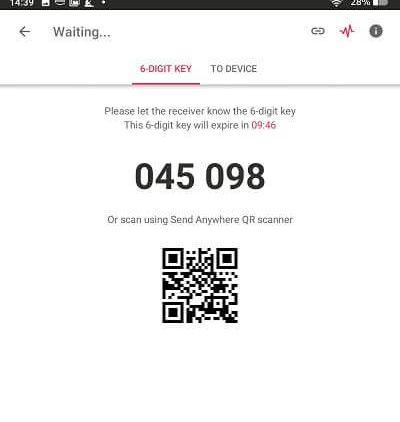 One important thing to note about Send Anywhere is that it needs to be installed on both the sending and receiving device. But once it's installed, the process of sending files is easy!

6. Library App: Overdrive

Versions:

This app is THE app for checking out FREE ebooks and audio books from your local library! I already have some wonderful how-to articles about this app so check them out here:

7. Note App: Evernote

Versions:

This is one of the top apps I use on my Kindle Fire. Other than the calendar, this is the one I use the most! It's extremely versatile and is both simple to use, yet full of powerful features.
What I love most is being able to attach files from my computer and then open them on my Kindle when needed.

Dropbox is another app with the ability to access your files to and from home, but it's not in the Amazon App store AND, more importantly, Evernote is not just a file system, it's so much more!
See Evernote's website for details on all this app can do. Also, there are plenty of books out there that explain what and how to use Evernote. Here's a search for Evernote books currently on Amazon if you'd like to learn more about using this fabulous app system to improve your life's organization.
Update: Since originally publishing this article, the basic version of Evernote has changed slightly and now allows you to sync between only two devices. This might be enough for your needs, but - if not -  a similarly brilliant app to try is OneNote. It's not available in the Amazon app store, though, and you will need to install the Google Play Store to your device in order to download it. 

8. Media Player App: VLC

Versions:
This is one of my favorite apps for every device I own and it's such a sophisticated piece of software that it's remarkable it's still free!
Ever downloaded a video or audio file that's in a format your device doesn't support? VLC is the answer - it's capable of playing just about anything and is completely ad-free, with no in-app purchases!
It has lots of cool features, giving you full control over your videos, and is a vast improvement on Amazon's default player.
VLC scans your Fire for all the media it contains, then displays all your audio and video files in a media library, which you can browse directly.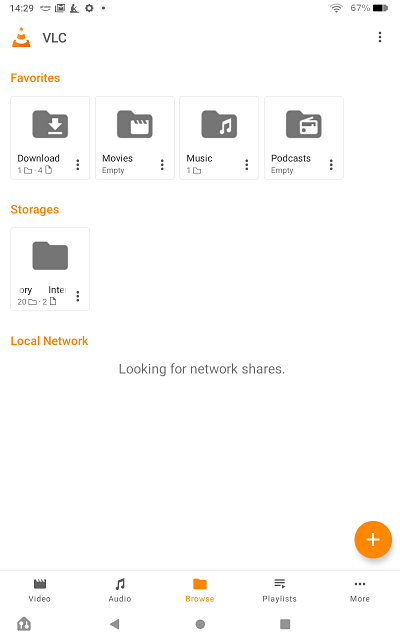 Well, that's it for now, my list of the best apps for improving your Kindle Fire! If you have a favorite app to share with me, please do so, I'd love to hear what your favorites are and why you think they're the best.

After reading this article be sure to check out all the other Kindle Fire App resources I have on the site! Or checkout some fun Kindle Fire Tips & Tricks.
I ♥ My Fire!
- Christine