Following Sites With RSS

How to Follow Your Favorite Sites and Blogs on Your Kindle Fire

What is RSS?


RSS stands for "Really Simple Syndication" (the name isn't simple but what RSS does is) which is basically an easy way to know when your favorite websites and blogs (like mine!) have added something new without having to visit each one of them individually.
This Kindle trick and tip makes keeping up with the latest news, posts, and videos so much easier- and quicker!

Really, it's super easy, I promise!


How To Get Started

Any website that has an RSS feed (usually denoted with an orange button of some kind like the one above) can be followed in an RSS reader.
There are readers you can install on your computer, or, for world wide access, you can use a web-based reader which allows you to access your favorite feeds from any Internet browser. There are even RSS apps you can install to your mobile device like your Kindle Fire!

All you have to do is set it up, add your favorite sites, and then check in to see what sites have posted something new.


Free Online RSS Readers

There are several free RSS readers you can use online. Some of the most well known are: My Yahoo!, My MSN, Google Reader, and Bloglines, but there are many more out there.
Once you have an account set up, all you have to do is go to a website or blog you want to follow, like LoveMyFire.com, and look for the RSS buttons on the site. (Mine are in the left-hand column.)
Next, click on the button for the reader of your choice to add the RSS feed. If you go with a reader that doesn't have its own dedicated button, just right click (control-click for Mac users) on the orange RSS button, copy the link or shortcut, and then paste it into your reader's subscription field or "add RSS Feed" box.
That's it! Now you're subscribed to that site's feed.

For this site, my RSS Feed is:
http://feeds.feedburner.com/love-my-kindle-fire-blog

Non-Web RSS Readers

If you'd like to install an RSS software reader directly to your computer there are some great free ones out there. Here are a few:

There are many more options to choose from out there so feel free to do some searching first.


Follow LoveMyFire.com

You can follow Love My Kindle Fire to keep up with the latest articles and Kindle resources by subscribing to my RSS Feed! Below is an image of what my site's feed looks like on Google Reader from my Kindle.
Just tap the titles to go directly to each article on my site where you can read my snarky prose and see my snazzy pictures! ;)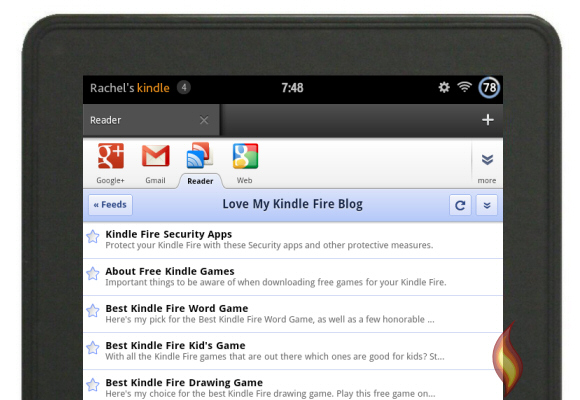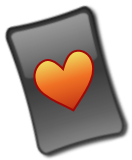 Love Note!

I personally use Google Reader which is free and easy to use. I've organized all my feeds into categories for all my favorite sites, including comics, friend's blogs, YouTube channels, Facebook pages, forum threads, and more!
When on my Kindle Fire I went to the Web, typed in Google's mobile page in the address bar, clicked on Google Reader, and there were all my feeds! I've bookmarked the reader so it's now instantly available whenever I want to see what's new at my favorite websites.

It's so easy, 'cause whether I access my RSS feeds from my computer, mobile, or friend's PC, it keeps track of which ones I've already read and those that I still need to check.


Best RSS Video Tutorial!

If you'd like to learn more about RSS feeds and how they work, check out this awesome video on YouTube: RSS In Plain English
This is the video I watched a couple of years ago that helped me understand and setup my first RSS feed. Once I started using this SUPER FAST way to keep up with all my favorite sites I couldn't go back.

---
When you're done, be sure to come back to see all the other great Kindle tricks and tips I've added (and am continuing to add) to the site!

Find Free Kindle Fire Books with RSS!

Now that you've learned all about RSS and how to setup your own RSS reader, you can subscribe to a ton of RSS feeds for your favorite type of Kindle Fire Books!
I've added an article all about finding Free Kindle Fire Books which explains how to add Amazon's RSS feeds for their top 100 free and paid books in your favorite genres!